Wigan built-up felt roofing team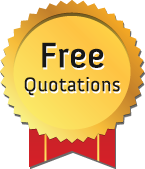 We've completed lots and lots of felt roofing services so you can be absolutely confident that when you contact us, you're in touch with an expert team.
We provide repair and installation services and can recommend this type of coverage to provide a superb and weather resistant seal. We use three sheet layers to protect your property from the elements and this is then sealed using heated bitumen so that each layer is fully affixed to those above and below. The resulting bond should leave you fully confident in the integrity of the work.
Local and highly experienced
With many years' experience across the Wigan area you can ask to see samples of the work we have done in the past.
Customer-oriented – when you contact us, you'll notice that we genuinely care about our customers
Long experience of all repair and maintenance services covering all types of roof – ask to see our customer testimonials
Free quotation based on sensible prices and with no obligation – contact us today to find out more
Once thought of as the 'cheap' option, built up felt roofing now stands tall against alternative materials. It also looks great, provides security and is safe. With high rainfall in the Wigan area, we also provide long guarantees so you can rest assured.
Call us today
Serving the whole area we'll make sure your built up felt roof doesn't detract from the standard of your property. If you have any concerns, call us today to see what we can do to help.
Call us today on 01942 409647 to see what we can do for you.